FAITHFUL + SPIRITUAL + TRANSCENDENT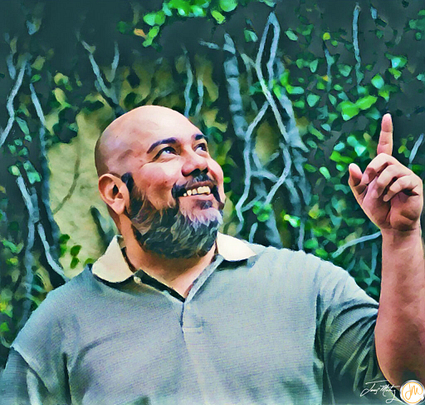 James Martinez
Spiritual Leader, Transcendent Artist, Author, Writer, Poet, Photographer, Filmmaker
I follow after Jesus Christ, Father God sent me. As challenging as our message may seem its only possible because of Jesus' gift of salvation. I profess to all the world that Jesus is my Savior. He saved my life, allowed for my return to our Father God. 
As we deliver this unifying message its my hope you'll get into love as quickly as possible. That you'll stand upright and if need be, repent. That you'll truly understand the importance of living in perfect harmony with God, The Holy Trinity. John 17:20-26 (we can be as one) 
I stand against Vaccine Mandates, against tyranny and anything to do with Government infringing upon your religious freedom and your Constitutional Rights to exercise your freedom.
Download Your Covid Exemption Form Here:
I wouldn't have picked a person like me. I would've thought there's others more qualified. But, God being God – 27 "chose the foolish things of the world to put to shame the wise, and God has chosen the weak things of the world to put to shame the things which are mighty; 28 and the base things of the world and the things which are despised God has chosen, and the things which are not, to bring to nothing the things that are, that no flesh should glory in His presence. 1 Corinthians 1:27-29
I didn't use to understand the meaning of His word, not since I was a child. I had gone out into the world right after adolescence and had gotten lost. I didn't have a good spiritual foundation and so that led to many other challenges. Its a long story and one I plan on sharing with everyone. After God blessed me, the enormity of what we're doing hit me. It literally through me for a loop to think He'd do something like this to someone so seemingly undeserving. I found out this is how He does things all the time. He's got a very peculiar way of making something out of nothing and then bringing everyone to a greater understanding through those He fixes.
If you've not heard yet, God is revealing to the world Spiritual Leader and Transcendent Artist James Martinez is the first in history to go through time with Him, and change the past. If you're unfamiliar with James' transcendent walks with God, The Holy Trinity, you're invited to get up to speed with this Divine Revelation.
We're doing miracles, this is but one instance and yes its a big one, but I'd like for you to understand the power of God and His Holy Spirit. I was saved by grace, thanks to Jesus Christ and lifted up by Father God. Ever since being filled with The Holy Spirit I can do absolutely anything.
The official story; I was called on and lifted up to heaven by God, chosen to deliver His messages. Given some of the worlds greatest blessings — face to face encounters with God, The Holy Trinity, walking with The Lord and The Lord's Lord, + becoming part of Ancient History + recently "Changing The World" from start to finish.
Most wonder why or how, or why you? My reply is why not me? Why not anyone? Really though, God does as He wills. "On earth as it is in heaven" He said, "All things are possible with Him".
God revealed Himself over the years and ever since being filled with His Holy Spirit we've been co-creating life together in unity. These journey's/walks are historically verifiable and without a doubt, signs from God, miracles and wonders from The Holy Trinity that have had incredible effects on humanity.
Thanks again and we hope you enjoy reading up on the grace of The Lord, how wonderful it is to be blessed beyond measure + what this message is bringing to life in this day and age. (yes, its more than history/time travel, its love, faith, unity and grace)

Hello and thanks for visiting. We're pleased to announce the release of our new NFT Website. If you're interested in non-fungible tokens representing some of God's greatest works you'll soon have the opportunity to pick some up. I'm sure by now you understand the enormity of our message and what this means for Christianity and all believers in God everywhere.
Father God told me before we began that they would speak of things we do for a long, long time, generations and generations and generations. He shared so much with me. He's allowed my life to be a living testament to His amazing power and grace, I hope you are inspired. I also pray you get blessed by getting some of our art at such a low price and that as our message is fully realized, God blesses you financially, even more so.
"IAM Transcendent" collection now available on OpeanSea Stay tuned as we release new video content + literature to help better explain our works. Thanks again for your support, for having faith and belief in our Lord and our Lord's Lord. And, especially for investing in historical works that's are sure to increase in value throughout the ages.
If ever you've wanted a sign from God, this is it! This is His-Story . . .

God bless you
James Martinez